HANDHELD MICROPHONESThe Traditional Option
Many people prefer handheld microphones, particularly those who are used to using dictation machines.
Most people recoil in horror when they realise that the downside of using a voice recognition system with their computer is that they are expected to wear a headset. Headsets are generally better for initial training and in noisy environments, such as open plan offices, but the "Biggles" look is very unpopular with most people.
For anyone who is fortunate enough to have either have an office to themselves or access to a quiet environment such as a meeting room, desktop and handheld microphones are now available.
The two companies offering the best handheld products are Philips and Sennheiser.
The Philips microphone is called the SpeechMike Pro and it was created specifically for the task of inputting speech into a computer.
Sennheiser, on the other hand, manufactures extremely high quality microphones used, for example, by musicians. All of their microphones have great accuracy and noise cancellation but because they are designed for purposes other than dictation, they have no extras and are very expensive.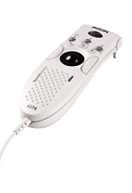 Philips SpeechMike Pro - This is the most popular handheld device on the market. With single-handed operation you can dictate, operate a mouse using a trackball with your thumb, use the customisable control buttons and listen to the built-in speaker. It connects to the computer via a serial interface, so it will work with Windows NT 4.0 (which doesn't work with a USB). It is plug and play so no extra software is required.

There is another model with a USB connection, which means that it bypasses the soundcard in the computer often giving much better results. Each model costs about £150.


Sennheiser MD431 II - Reputed to be the best microphone for voice recognition. A heavy well-made product in matt black, anodised and with a scratch-resistant finish. It might make you feel like a pop singer as you have to hold it 3 to 4 in. away from your mouth. Filters high levels of background noise. Costs about £280.



Sennheiser ME65/K6 - As with the MD431 ll, but will operate up to 2 ft. away from the speaker which means it can also operate as a desktop model using a stand or the Sennheiser Balanced Microphone Arm. Costs about £350.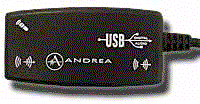 Andrea USB Pod (USB soundcard) - Both of the Sennheiser microphones above may be plugged into the universal serial bus (USB) port in your computer using this converter. This one is one of the cheapest and best at about £30. You won't be able to use the USB port if your operating system is Windows NT which, for some strange reason, doesn't support USB.


More information about handheld microphones and related products and services can be obtained from Pyxis Computer Services.


Return from Handheld Microphones to aLOTeasier-DICTATION home page.


Copyright © 2004 aLOTeasier.com. All Rights Reserved.