HEADSET MICROPHONES
Often Unpopular but Very Accurate
Headset microphones make you feel really involved when you wear one.

You could be a Pilot, a Sound Engineer, a Recording Artist, an Army Signaller, a Call Centre Operator or merely someone who uses a voice recognition system. You have the freedom to move your head around while talking which is good.

Yet the constriction about the head combined with feeling of being tethered are both bad. Also, many people dislike messing up their hairstyles. When using a voice recognition system in an open plan office, or any other noisy environment, there is no other option, so we might as well explore the possibilities.

When purchasing a voice recognition software package, a headset microphone is nearly always included and for obvious reasons it tends to be of the minimum specification required and quite uncomfortable.

However, it is usually okay for the novice user when carrying out his or her initial training. It has one ear piece through which you have the option of listening to the computer by plugging into the "sound out" socket on the computer (alternatively if you don't plug this in, you will hear the computer through its loudspeakers).

The other plug on the headset goes into the soundcard socket. Both plugs are marked with the appropriate symbols, a headset and a microphone respectively.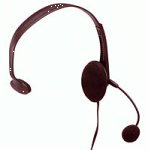 One of the best low-cost headsets is the Plantronics audio20 mono PC headset, which is lightweight though flimsy, quite comfortable and gives excellent results. It costs about £20.


Also from Plantronics is the DSP 100 PC headset which has a digitally enhanced noise-cancelling microphone. This plugs into the universal serial bus (USB) on the computer thus bypassing the soundcard and often giving far superior results. (This is because many computers nowadays don't have proper soundcards, just chipsets on the motherboard).

There is no additional software required for installation, it is plug and play unless you are unfortunate enough to have Windows NT which does not support USB. USB headsets are always more expensive because they contain their own sound cards and this headset microphone costs about £60. Build quality is more substantial.



If you have a portable (laptop) computer you will find that headset microphones don't fit into anything very easily because of their shape, and are often damaged as a consequence. The Plantronics DSP 400 foldable stereo PC headset solves this problem.
Being stereo, it has two ear pieces which may be an advantage when trying to use a voice recognition system in a noisy environment such as a railway station or an airport terminal, as you will then be in a world of your own. Be careful not to miss your train or plane though! This headset has all the features of the DSP 100 and costs about £70.


An unusual variant of the conventional headset microphone is the Emkay VR -3185 manufactured by Knowles Electronics in Sussex, England who also manufacture hearing aids. All of their products are of very high quality.

The VR-3185 is a comfortable headset with an ear piece (known as the D-loop) which fits over the ear so it doesn't move out of position. This headset costs about £95. If you wanted to plug into your USB port, Emkay manufacture a USB external soundcard (USB Pod) which performs this conversion for about £65.

VXI is an American company which specialises in the design development and marketing of high-performance voice interface hardware communications products. It manufactures the popular "Parrot" line of computer headset microphones.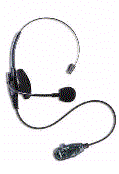 It also manufactures a USB Pod adapter, and in August 2003 released the TalkPro USB 100 headset microphone. This has digital signal processing (DSP) technology which converts the headset microphone's signal from analogue to digital giving much greater clarity and therefore greater accuracy for voice recognition.

This headset also has a mute switch and a volume control. It costs about £95 and gives the best performance of any headset I have tested.

More information about headset microphones and related products and services can be obtained from Pyxis Computer Services.
Return from Headset Microphones to aLOTeasier-DICTATION home page.


Copyright © 2004 aLOTeasier.com. All Rights Reserved.